CLOSED FOR THE SEASON, WE WILL BE OPEN FOR A SHORT DURATION IN FALL WITH MUMS, PUMPKINS, STRAW BALES AND CORN STALKS.
2023 Flower offerings
Alyssum
Bacopa
Begonia, Nonstop and normal
Bidens
Calibrachoa, Multiple Colors!!
Celosia
Coleus
Creeping Jenny
Dianthus
Dichondra
Drachanea Spikes
Dusty Miller
Fuschia
Gazinia
Geraniums-Citronella scented & multiple colors
Gerbera Daisys
Heuchera (Coral Bells)
Hibiscus
Hypotes (Polka Dot Plant)
Hosta
Impatiens
Ivy-Sweedish
New Guinea Impatiens (Sunpatiens)
Lantana
Lobelia
Mandevilla
Marigold
Pansy
Petunia
Wave Petunia
Phlox
Portulaca
Salvia
Sedum – Lemonball and Hardy
Snap Dragon
Succulent
Spikes – Dracena
Sunflowers
Sweet Potato Vines
Thunbergia (Black Eyed Susan Vine)
Verbena
Vinca
Viola
Zinnia
Hyacinth
Tulip
Daffodil
Blue Bell
Grape Hyacinth
2023 Vegetables:
Basil
Green Beans
Broccoli
Brussels Sprouts
Cabbage
Cauliflower
Celery
Chives
Cilantro
Cucumber, Pickling and regular
Dill
Eggplant, Japinese and classic
Kale
Lavender
Lemon Grass
Lettuce
Mint – Spearmint
Onions-Candy
Oregano
Parsley
Pepper :King Arthur Bell, Lady Bell, Flavorburst Bell yellow, Jalapeno (Early and Mucho Nacho), Hungarian Wax, Cherry Hot, Sweet Banana, Carolina Reaper, Scorpion, Habanero, Poblano
Rosemary
Sage
Summer Squash
Strawberry – Albion Everbearing
Sweet Potato – Mahon Yam (Organic sweet potato slips) Arriving week of 05/29/2023
Thyme
Tomato: Better Boy, Jet Star, Amish Paste, Early Girl, Sweet Treats Cherry, Red Grape
Zucchini
See below for Picture Updates!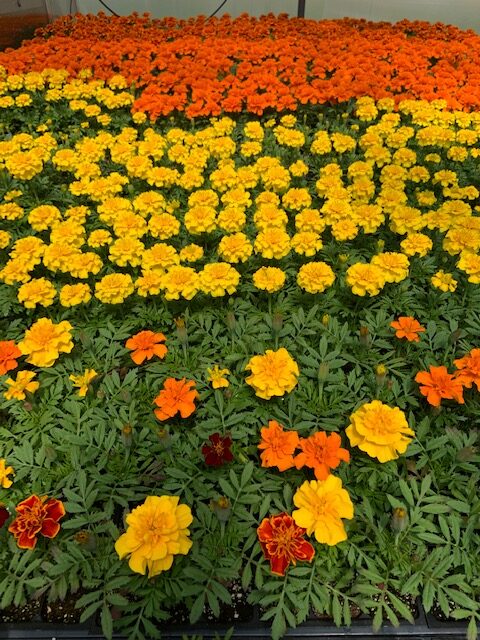 Please no pets outside of the vehicle on premises.